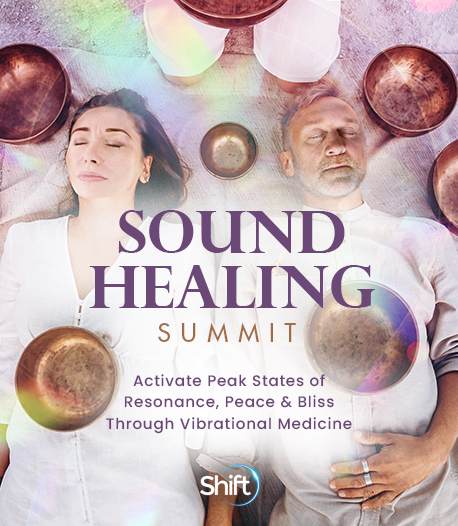 Program & Replays

Grounding Presence and Awakening Consciousness With the Healing Sounds of Crystal Alchemy Singing Bowls
Broadcast on August 11, 2021
Hosted by Alec Sims
With Professor Jeralyn Glass
Crystal alchemy singing bowls are modern sonic tools of healing and transformation. Experience Professor Jeralyn Glass, an internationally known singer, professor, and master musician as she plays an exquisite set of harmonized endocrine system notes. She shares how the potent vibrations of the pure quartz alchemy infused singing bowls bring stability, centering, and expansiveness. Enjoy this invitation to enter into the quantum world of crystalline sound, where science, music, spirituality, and bio-energetics meet.
In This Session:
As you are crystalline in nature, the pure quartz alchemy singing bowls' healing tones are easily received by your body. The pristine sounds helps expand your awareness and awaken you
How to create stability and presence through the use of the alchemy singing bowls, and an understanding of why they are bringers of love and joy
What crystal alchemy sound healing involves and the reasons singing bowls are so popular today
The opinions expressed here are those of the author/presenter and are not representative of Shift Network employees, customers, or other presenters.
Professor Jeralyn Glass
Internationally Acclaimed Singer, Crystal Alchemy Sound-Healing Pioneer, Renowned Teacher, Inspirational Speaker & Musician
Jeralyn Glass is a leader and pioneer in the field of Sound Healing using Alchemy Crystal Singing Bowls®️. She is an internationally known singer, professor, meditation leader, sound-healing practitioner, and crystal singing bowl master alchemist. Her unique presence is informed by her personal alchemy of classical music, meditation, and high-vibrational sound. 
Six years ago, the course of her life shifted dramatically with the loss of her only child. Sound became the path for her own healing and inspired her active participation with the cancer support community and Maria Shriver's Women's Alzheimer's Movement. Passionate about music and sound as important tools of self-discovery and healing, Jeralyn founded Crystal Cadence, home of the Los Angeles Crystal Tones Singing Bowl Temple, where she offers the renowned The Sacred Science of Sound crystal alchemy sound-healing trainings, Alchemy Crystal Singing Bowls consultations, mentorships, and transformational voice.
Jeralyn was the keynote presenter at The Compassionate Friends National Conference, and has performed her high-vibrational music for New Thought heavyweights like Marianne Williamson, Gregg Braden, Anita Moorjani, Lee Harris, Marci Shimoff, and Dr. Sue Morter.
Jeralyn opened the Los Angeles Conscious Life Expo with the late Barbara Marx Hubbard, and presented her concert, Forever Love, at the Science and Spirituality Conference in Canada. She performed her new album, Vibrance — an innovative combination of classic and original songs,  jazz-influenced accompaniment, Alchemy Crystal Singing Bowls, and spoken meditation — at the sold-out Scientists, Mystics & Sages Conference. Jeralyn works regularly as a musician and sound-healing practitioner at Kamalaya, an award-winning wellness sanctuary in Thailand.
Jeralyn has been honored to be among the three dozen experts in The Shift Network's Sound Healing Summit for the past few years. Her courses on The Shift Network continue to uplift lives around the world. Jeralyn's unique music is available at CrystalCadence.com, on all streaming platforms, and on the Crystal Cadence YouTube channel.
Her popular series and educational platform, The Sacred Science of Sound, features conversations, presentations, and performances offering leading-edge information on vibrational medicine, bioenergetics, and the healing power of music.