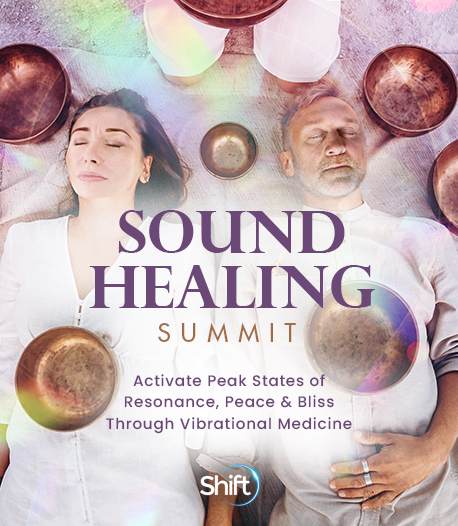 Program & Replays

Integrating Shamanic Energy Medicine, Healing Rhythms, and Divine Communion to Expand the Healing Effects of Sound & Vibration
Broadcast on August 09, 2021
Hosted by Phyllis Anne Douglass
With Three Trees
Find out about the ancient, shamanic and mystical applications of sound healing that are not addressed deeply enough in contemporary sound healing. What are the positive and negative effects of science on our ability to become better sound healers? Three Trees answers that question as he talks about the importance and healing effects of rhythm in sound healing, and taps on the deeper meaning of intention and the idea that we are all powerful creators. Learn how "healing frequencies" are affecting the collective consciousness and our future human experience.
In This Session:
Gain a shamanic perspective of sound healing, and the tools and techniques used
Understand the power of the drum and rhythms, and the important role they can play in sound healing
Learn how to take sound healing to the next level through personal work and spiritual practice
The opinions expressed here are those of the author/presenter and are not representative of Shift Network employees, customers, or other presenters.
Three Trees
Sound Healer, Artist, Musician, Teacher, creator of SoulMonic™ Sound Healing
Three Trees (a name given during a vision quest over 20 years ago and now his legal name) is a healer, teacher, musician, artist, and the creator of SoulMonic™ sound healing. He integrates shamanic/indigenous, and contemporary techniques, with a focus on love and Divine connection. Three Trees has studied music since he was a child and studied the mystic/shamanic arts for more than 30 years. As a musician and sonic alchemist, he is known for his powerful journeys and his deep understanding of sound and rhythm as a healing modality. His joyful passion is to share this vast knowledge and sonic medicine experience through his unique sound healing journeys, workshops/trainings, retreats and speaking engagements.
Three Trees incorporates the sacred healing instruments and wisdom from many indigenous traditions around the world, alchemizing ancient and contemporary techniques of sound healing and vibration therapy. He is a craftsman of drums, didgeridoos, and native flutes. His lifetime path as a spiritual seeker and student, as well as two decades as a sound healing practitioner and teacher, give Three Trees a unique and profound understanding of the relationship between sound, rhythm, consciousness, healing, and sacred connection.
Three Trees resides in the peaceful mountains of Becket in The Berkshires of Massachusetts.