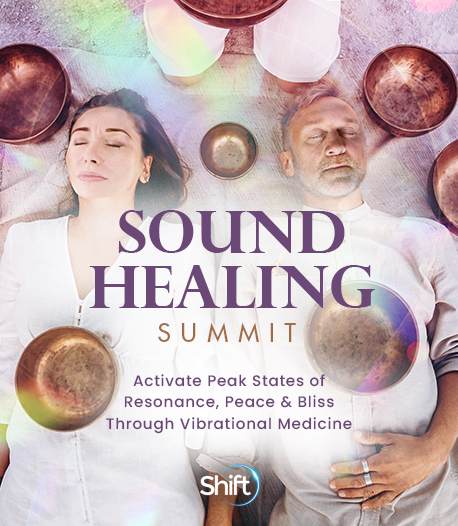 Program & Replays

Navigating Complex Emotions With Sound Healing Therapy
Broadcast on August 10, 2021
Hosted by Alec Sims
With Danielle Hall
Many people believe if they find the root of the emotion or problem, they will actually find healing... but research shows that the resolution comes when you actually feel the emotion. Just about every system in your body responds to the chemical and electrical cascade activated by emotion. Listen to Danielle Hall as she discuss that emotions are cycles that happen in your body and how you can use sound as a tool to help soothe emotions and complete the stress response cycle.
In This Session:
Learn how the stress response cycle works
Discover how sound healing therapy can support in completing the stress response cycle
Tips on how to take the first steps to include sound healing as an empowering part of your own life
The opinions expressed here are those of the author/presenter and are not representative of Shift Network employees, customers, or other presenters.
Danielle Hall
Founder & CEO of SoundEmbrace
Danielle Hall has created a movement for inner awareness and empowerment through sound experiences. As a sound practitioner, sound healing teacher, wellness coach, and Reiki master, Danielle is shifting perspectives around empowerment. She leads a team of trained sound practitioners to elevate the sound healing industry to serve the mental health and wellness of our communities.
With nearly a decade of experience in the field, Danielle has worked with adults and children transitioning through various traumas including PTSD, depression, sexual abuse, digestive issues, and physical pain. She uses specific sound tools and techniques to facilitate shifts in the physical, mental, emotional, and spiritual body.
Danielle has a BA in Metaphysical Science, certification in sound healing therapy, Reiki master certification, 200-hour yoga teacher certification and has worked with hospitals, corporate wellness programs, therapy centers, and nonprofits. As a member of the American Public Health Association, and the Georgia Health Association she has spoken on platforms addressing how sound as a therapy is a non-invasive complementary approach to wellness. Danielle is also an advocate for musicians rights as an associate member of the Recording Academy.