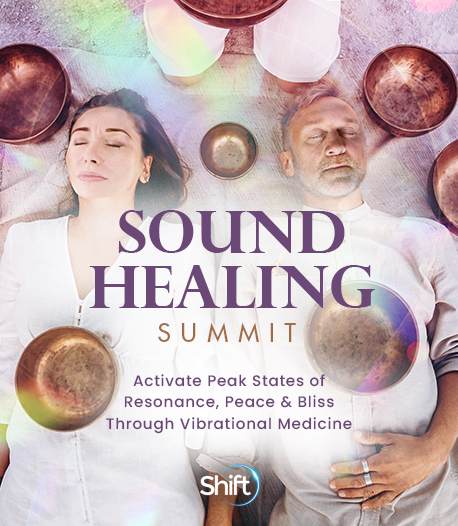 Program & Replays

Sound as a Sacred Portal to the Soul of Life
Broadcast on August 12, 2021
Hosted by Phyllis Anne Douglass
With Deborah Koff-Chapin
Deborah Koff-Chapin talks about the universal power of the arts for healing, soul development, and communion with the sacred presence in life. She shares stories of her journey integrating touch drawing, music, movement, and ceremony, and closes with an offering of music and images. She hopes to inspire you to trust your unique creative impulse.
In This Session:
The arts are universal human practices that can be used by anyone regardless of talent or training, to attune to, and commune with, deeper levels of soul and life
The use of multiple art forms enrich one's primary art form, helping to open and integrate what has emerged from a creative practice
The expressive arts provide access to other ways of sensing and knowing, expanding your spectrum of awareness
The opinions expressed here are those of the author/presenter and are not representative of Shift Network employees, customers, or other presenters.
Deborah Koff-Chapin
Creator of SoulCards, Portals of Presence, Founder Center for Touch Drawing
Deborah Koff-Chapin is creator of the bestselling decks, SoulCards 1&2. She recently released a new deck entitled Portals of Presence: Faces Drawn from the Subtle Realms. Deborah is author of Drawing Out Your Soul and creator of five SoulTouch Coloring Journals. She is founding director of the Center for Touch Drawing.
Deborah has been holding sacred space through sound since she began teaching Touch Drawing in 1980. She sings with her drum and crystal bowls for hours, supporting participants on deep soul journeys through this simple yet profound drawing process. Deborah has taught Touch Drawing internationally at conferences, graduate programs, centers such as Esalen, Omega Institute, CoSM, Rowe, and now online.
Deborah's approach to vocalizing developed in the 1970's within the practice of ceremonial Long Dance with Elizabeth Cogburn and in chanting with Hilda Charleton in NYC. She later trained in classical singing with Maestro David Kyle. Deborah has developed a set of Alchemy crystal and antique Himalayan bowls, which serve as a harmonic foundation for her current vocal attunements. She holds free, live online 'Song Bath Sanctuary' most Sunday evenings.
In 1982, Deborah and her husband founded a private ceremonial circle that continues to meet regularly. This group creates a collective resonant field of through drumming, dancing and singing on the Solstices and Equinoxes. Deborah collaborates in crafting ceremonies at events such as the Fairy and Human Relations Congress. She is an ordained minister of Incarnational Spirituality through the Lorian Association.