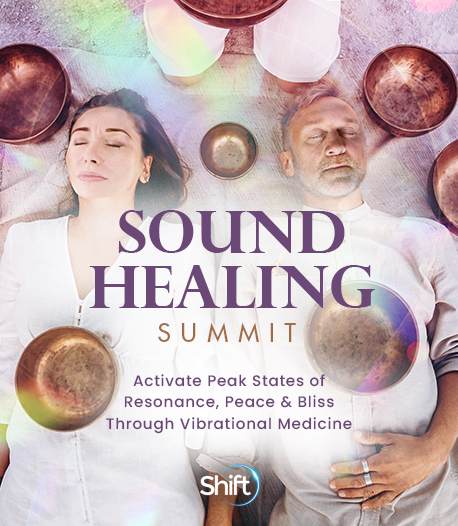 Program & Replays

Welcome Message From Your
Series Co-Host, Christine Stevens
Hi, I'm Christine Stevens. And I want to welcome you and thank you for signing up for the Sound Healing Summit series online. It's wonderful to have you joining us for this incredible online conference where I will be joined with co-hosts Phyllis Anne Douglass and Alec Sims. And we have the great honor of interviewing over 30 incredible researchers, pioneers, practitioners teaching everything from drums... to flutes... to tuning forks... to toning... to silence... to awakening our voice.
People like Chloë Goodchild, Professor Jeralyn Glass, Eileen McKusick, Stephen Halpern, Jonathan Goldman, Mary Youngblood, and the great djembe master Dramane Koné. Dave Stringer singing with us in kirtan. So many great teachers.
And also you. Being part of this community is important. I always feel that we join in this virtual space and we walk away from this as if we went to a real conference, a live event. But it's online. So, so much more access to all of us being here together. You meet your friends. You know that many people are joining this together. Because this is a time in the post-pandemic time to create a new song, to bring yourself into tune.
This isn't a music class. There are no music teachers and no music to read. This is about the intuition of sound — our birthright of sound. We love sound. It helps us focus. It helps us connect to Spirit. It helps us in our healing, and it helps us bring new tools into our work. I really look forward to seeing you there and thank you again. Thank you for signing up. See you soon.
Christine Stevens
Speaker, Author, and Music Therapist
Christine Stevens is an internationally acclaimed speaker, author, drummer, and music therapist. Holding master's degrees in both social work and music therapy, Christine inspires people all over the world with her message that music promotes holistic health, spirituality, and wellness. Christine is the author of Music Medicine, The Healing Drum Kit, and The Art and Heart of Drum Circles book and DVD. She's recorded three play-along albums: Reviving Rhythms, Drumming Up Spirit, and Drumming Up Diva. A leader in the music and wellness movement, Christine also serves on the editorial board of Explore: A Journal of Science and Healing.
Christine is the founder of UpBeat Drum Circles, offering training programs and global online courses. She's trained facilitators and led workshops around the world, from Iraq, Hong Kong, and Brazil to South Africa, Japan, and Western Europe. Through Remo, the world's largest drum company, Chrsitine co-created the HealthRHYTHMS evidence-based group drumming protocol, used in schools, medical centers, and veterans hospitals worldwide.
Christine's work in Iraq was featured in the book and DVD Discover the Gift. Televised media credits include PBS, NBC, KABC-Los Angeles, KTLA Los Angeles, Tournament of Roses Parade, London Tonight, Living Better TV, Discovery Health, and Hong Kong News. As a contributing writer, Christine's work has been featured in Fitness magazine, Spirituality & Health, Body & Soul, Fast Company, First for Women magazine, The Oriental News, The Christian Science Monitor, U.S. News & World Report, Yogi Times, and Natural Beauty and Health.