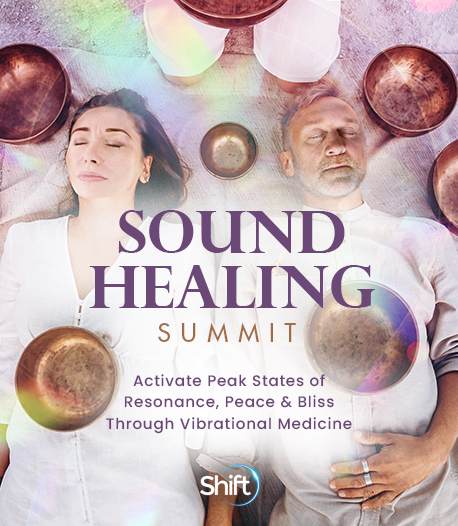 Program & Replays

Trauma-Informed Sound Healing
Broadcast on August 12, 2021
Hosted by Alec Sims
With Russill Paul
Covid has shed the spotlight on mental health around the world. Given our resources, sound healing can now evolve into a trauma-informed methodology through the Yoga of Sound. While musical intervals, toning, kirtan, and drumming are self-evident aspects of Nada Yoga (Sound Yoga), current sound healing applications neglect parts of the Vedic and Tantric traditions that are highly efficacious for healing. Russill Paul focuses on critical areas of healing from these sacred sound modalities.
In This Session:
A common approach to healing is through identifying and enhancing "areas of lack" while reducing "areas of excess." Example: reducing cholesterol while improving blood circulation
Our self-healing can involve three areas of the voice: beauty, wisdom, and power. Each can be affected by specific streams of sacred sound — Bhakti, Vedic, and Tantric

A sound healer, with proper knowledge of all three streams of sacred sound, has a formidable range of tools to utilize. These tools are best developed first through the healer's process
The opinions expressed here are those of the author/presenter and are not representative of Shift Network employees, customers, or other presenters.
Russill Paul
Author, Teacher, Pioneer of The Yoga of Sound & Founder of Yogic Mystery School
Russill Paul is a pioneering figure who introduced the sonic aspects of yoga in North America. Author of The Yoga of Sound and many bestselling chant CDs, Russill brings more than 25 years of teaching experience at universities, colleges, and learning institutions such as Kripalu Center and Omega Institute. He is highly regarded for his ground-breaking work worldwide and through his online Yogic Mystery School.
At present, Russill focuses on emotional healing, personal transformation, and spiritual awakening to bridge the gap between traditional Eastern methods and Western living and his methods facilitate deeply fulfilling states of consciousness. While he continues to travel across the U.S. and internationally to present workshops and concerts to large audiences, working one-on-one with individuals and guiding small groups in deep spiritual practice is fast becoming his true love.
Russill's spiritual journey began in the darkness of depression before transitioning to yoga and spiritual practice after attempting suicide at the early age of 19. Trained as a monk and yogi at a forest ashram in India, the strength of his teaching lies in living a regular life in the world and sustaining a loving marriage of over three decades. He works collaboratively with his wife, Asha, a holistic health coach, to help students heal and empower. Each year, they take their students on a pilgrimage, "Transform in India," to celebrate and deepen their spiritual healing together.