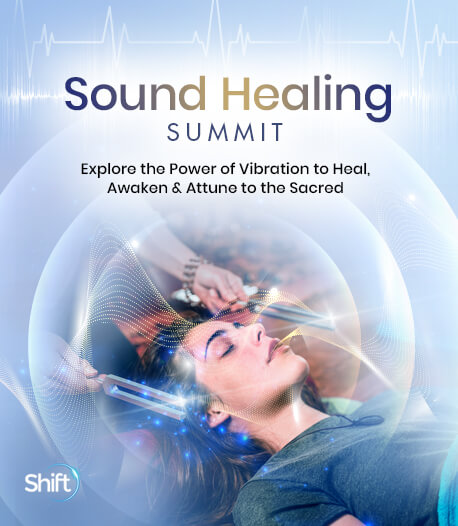 Program & Replays
Going Om: An Exploration of Sound, Vibration, Energy and Wellness
Broadcast on July 01, 2022
With Christina Grozik
Hosted by Alec Sims
Sound vibrational therapist and integrated holistic health coach Christina Grozik has been using sound and energy in her practice for over fifteen years, and decided to further investigate the power that it holds. She spent two and a half years traveling, researching, and interviewing experts for a documentary she produced called Going Om, which explores sound, vibration, energy, and even silence and the potential impact they have on our wellness.
In this session, you'll discover:
As Nikola Tesla said, "If you want to understand the secrets of the universe, think in terms of energy, frequency, and vibration"
The secrets to using sound in daily life to promote wellness
How sound has been used as a weapon, and how the principles can be transmuted into positive tools for healing
The opinions expressed here are those of the author/presenter and are not representative of Shift Network employees, customers, or other presenters.
Love this Speaker and What They Have to Say?
It can be yours to keep... forever.
Get lifetime access to the summit and bonus material by upgrading now!
UPGRADE HERE
Christina Grozik
Producer of Going Om, Integrated Holistic Health Coach, BohemianBabeWellness.com
Christina Grozik's background is an eclectic one, having worked as a coordinator in the media production industry, a public speaker, a special events organizer, a teacher at Kent State University, and most recently, as a producer of the wellness documentary Going Om.
Her many career paths have led her to establishing a wellness practice as a certified vibrational sound therapist, integrated holistic health coach, yoga and meditation teacher, polarity practitioner, energy balancing guide, past life regressionist and Reiki master.
Working as a travel blogger, Christina spent seven years on the road documenting her journeys. She has met extraordinary people, immersed herself in unique cultures, and encountered experiences that would forever change her life. When asked, "Do you ever get tired of being by yourself all of the time?" she replied, "I'm never by myself. The Universe is guiding me."
Having been exposed to a variety of environments and taking on multiple career roles, coupled with her wellness studies, Christina understands the importance of energy and living a balanced life. She is passionate about helping others find a lifestyle that promotes wellness, and incorporates integrated modalities into her teaching and practice with clients. More information on Christina's integrated holistic health coaching practice can be found at BohemianBabeWellness.com.
Christina enjoys sharing her work with others, and feels incredibly blessed to have the opportunity to do so. She has been a featured presenter, a guest and/or teacher for a wide variety of audiences including Akron Children's Hospital, Coast to Coast AM, Edgar Cayce's A.R.E., UPMC's Family Medicine Grand Rounds, Kent State University, The University of Oklahoma, the Ohio Music Education Association Annual Conference, The Reiki Center, Lotus Rising Yoga, Delta Groove Yoga, The Butterfly House, My Vinyasa Practice and more.