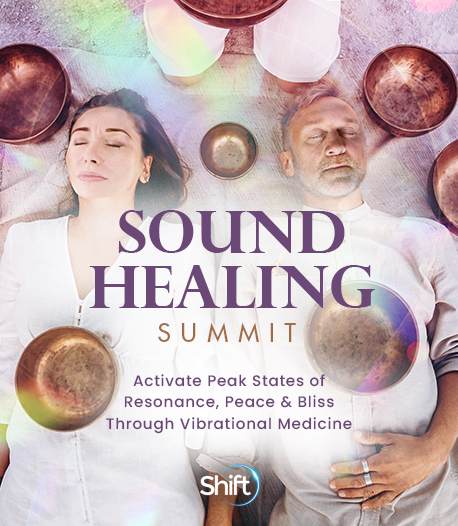 Program & Replays
The live summit is over. However, you can still get the recordings and transcripts of all the summit sessions. Upgrade to receive unlimited access to the inspiration, resources, and powerful practices presented by the experts featured in the Sound Healing Summit series.
Thousands of people like you from around the globe are gathering together to discover how to bring their body into resonance, relieve stress, lower their heart rate, stimulate immune response, and activate blood cell vitality through the practice of sound healing.
More than 35 of the world's foremost teachers will share deep insights and proven practices that can help you drop out of a cluttered mental state and into a deeply resonant, harmonic bliss-state.
Vibrational medicine, an instantaneous way to quiet your overactive mind, works on an intuitive level that bypasses thought and guides you into a gratified state of tranquility.
You'll be in good hands with summit hosts Alec Sims, a sound healing innovator and leader with deep experience in practical sound work... Christine Stevens, founder of UpBeat Drum Circles, speaker, author, and music therapist... and Phyllis Anne Douglass, vocal sound alchemist and musician, intuitive healer, artist, and yoga teacher.
Enjoy this special series!

08/09/2021 5:00:00 PM
08/09/2021 6:00:00 PM
08/09/2021 7:00:00 PM
08/09/2021 8:00:00 PM
08/09/2021 9:00:00 PM
08/09/2021 10:00:00 PM
08/09/2021 11:00:00 PM
08/10/2021 5:00:00 PM
08/10/2021 6:00:00 PM
08/10/2021 7:00:00 PM
08/10/2021 8:00:00 PM
08/10/2021 9:00:00 PM
08/10/2021 10:00:00 PM
08/10/2021 11:00:00 PM
08/11/2021 12:00:00 AM
08/11/2021 5:00:00 PM
08/11/2021 6:00:00 PM
08/11/2021 7:00:00 PM
08/11/2021 8:00:00 PM
08/11/2021 9:00:00 PM
08/11/2021 10:00:00 PM
08/11/2021 11:00:00 PM
08/12/2021 12:00:00 AM
08/12/2021 5:00:00 PM
08/12/2021 6:00:00 PM
08/12/2021 7:00:00 PM
08/12/2021 8:00:00 PM
08/12/2021 9:00:00 PM
08/12/2021 10:00:00 PM
08/12/2021 11:02:00 PM
08/13/2021 5:00:00 PM
08/13/2021 6:00:00 PM
08/13/2021 7:00:00 PM
08/13/2021 8:00:00 PM
08/13/2021 9:00:00 PM
08/13/2021 10:00:00 PM
08/13/2021 11:00:00 PM
Support