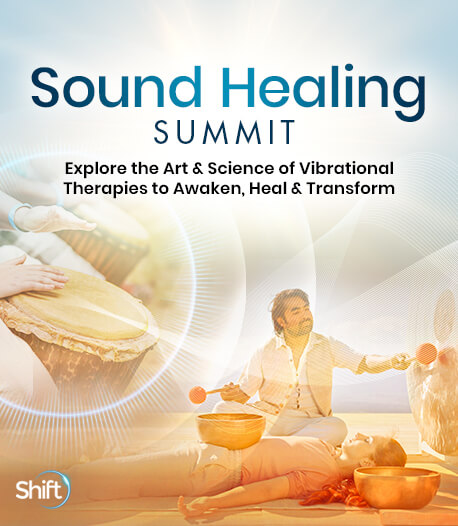 Program & Replays
Mindful Sound Therapy: The Importance of Conscious Sound, Energy Work, Intention, and Protocols
Broadcast on July 14, 2023
With Michele Averard & Nestor Kornblum
Hosted by Alec Sims
Michele Averard​ and Nestor Kornblum discuss the mindful application of sound therapy through the creation of a "safe container" using energy work, intention, and powerful visualizations in conjunction with the voice. They will also talk about some sound myths and sound secrets they have discovered over the years. The importance of the voice and overtone singing will also be covered.
In this session, you'll discover:
Various mindful applications of the voice and instruments combined with intention and the projection of energy
A powerful chakra and energy-balancing exercise for couples, as an experiential process
Sound therapy protocols and how to create a safe space for therapy sessions
The opinions expressed here are those of the author/presenter and are not representative of Shift Network employees, customers, or other presenters.
Love this Speaker and What They Have to Say?
It can be yours to keep... forever.
Get lifetime access to the summit and bonus material by upgrading now!
UPGRADE HERE
Michele Averard
Co-Director of International Association of Sound Therapy, Musician, Facilitator
Michele Averard, author of Free Your Voice, Heal Your Life!, is a founding member and co-director of both the Spanish and International Associations of Sound Therapy. She is co-creator (with her husband, Nestor Kornblum) of a sound healer diploma training that has trained hundreds of sound therapists worldwide. She is also a singer-songwriter of international repute. Since 1994 she has conducted courses, workshops, and conferences on the healing power of sound, and particularly the voice. She and Nestor have also co-created and published more than 10 CDs of healing music. Michele has been interviewed and featured on television and radio programs in several countries, and has had numerous articles published in magazines and other publications. She's directed various choirs over hte years, and continues to give live concerts. A firm defender of women's rights, she also offers workshops and organizes festivals celebrating the Sacred Feminine. She and Nestor have their own centre "The Dome Center" that has served as their base in the Alicante province of Spain since 1997.
Nestor Kornblum
Co-Director International Association of Sound Therapy, Musician, Facilitator
Nestor Kornblum, with his wife Michele Averand, is co-founder and co-director of both the Spanish and International Associations of Sound Therapy. A master overtone singer who plays many instruments, Nestor has created more than a dozen music CDs for healing, meditation and transformation. He and his wife conduct sound healer diploma trainings, courses, workshops, and perform concerts worldwide. 
His humor, charismatic style, and love for sound have transported, enchanted, and changed the lives of thousands of people spanning four continents. For 28 years, Michele and Nestor have worked together as a dynamic team, demonstrating the essence of sound as a vehicle for personal growth and transformation on the individual, male-female, and planetary levels. Nestor is author of Overtone Chant: The Practical Guide. His numerous articles have been published in magazines in various countries and languages, and he has appeared on radio and national television in several countries.