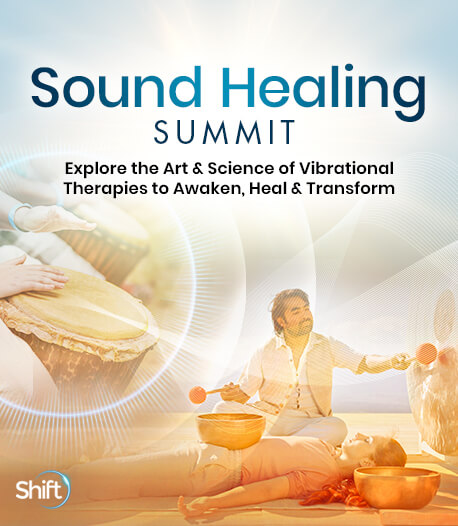 Program & Replays
Healing Music for Brain Health and Wellbeing
Broadcast on July 11, 2023
With Yuval Ron
Hosted by Alec Sims
Explore leading-edge 40hz sound therapy for brain health to prevent dementia, Alzheimer's, chronic pain, and more. Learn how sound can heal the mind and body — based on the latest collaborations of composer Yuval Ron with scientists, doctors, and healers. Find out how Yuval weaves sound practices based on ancient wisdom traditions such as Ayurveda, Traditional Chinese Medicine, yoga, Sufi, and Kabbal with the latest Western science research.
In this session, you'll discover:
A live Oud music demonstration on the power of sound over body sensations, emotions, feelings, and thoughts
How a composer can weave ancient wisdom traditions and recent scientific discoveries to create healing sounds tracks
New 40hz sound therapy for brain health
The opinions expressed here are those of the author/presenter and are not representative of Shift Network employees, customers, or other presenters.
Love this Speaker and What They Have to Say?
It can be yours to keep... forever.
Get lifetime access to the summit and bonus material by upgrading now!
UPGRADE HERE
Yuval Ron
Composer, World Music artist, Oud master, educator
Yuval Ron is an award-winning composer who's been involved in the world of music therapy since he received a commission in 1990 from researcher Robert Monroe of the Monroe Institute to create a hemi-sync music composition using binaural beats. He has collaborated with neuroscientists Mark Waldman, Dr. Andrew Newburg, psychotherapist Dr. Sanjay Manchanda, pioneer healers Dr. Richard Gold and Gail Lynn, Sufis, Kabbalists, and Ayurvedic healers. He's founding director of the record label Metta Mindfulness Music which produces quality intentional healing music for use in clinics and treatments centers worldwide.
Yuval was invited to perform meditative music for the Dalai Lama, the Sufi Sheikh Sidi Muhammad, and has also collaborated with the Sufi leaders Pir Zia Inayat Khan and Pir Shabdah Khan, with numerous master musicians including Omar Faruk Tekbilek, Estrella Morente, and Deva Premal, and with the Zen Buddhist priest and master artist Hirokazu Kosaka.
He's been invited to speak at numerous schools including Yale, John Hopkins University, UCLA, Middlebury College, MIT, Berklee College of Music, and the University of Chicago, and has given keynote addresses at the Pacific Conference of Oriental Medicine in San Diego, and at the Quantum Institute, in New Delhi, India. Yuval's book Divine Attunement: Music as a Path to Wisdom won Gold Medal Award for Best Book in Spirituality Category in the Indie Book Award 2015. He's composed scores for the Oscar-winning film West Bank Story, PBS Nova documentaries such as Breaking the Maya Code, art house films such as Proteus, and scores for site-specific installations at the Getty Museum, Japan America Center, LAX, and more. He's founder and executive director of the charity nonprofit organization Inspired Sound Initiative, dedicated to providing free-of-charge educational performance arts programming to under-served communities and at-risk-youth worldwide.