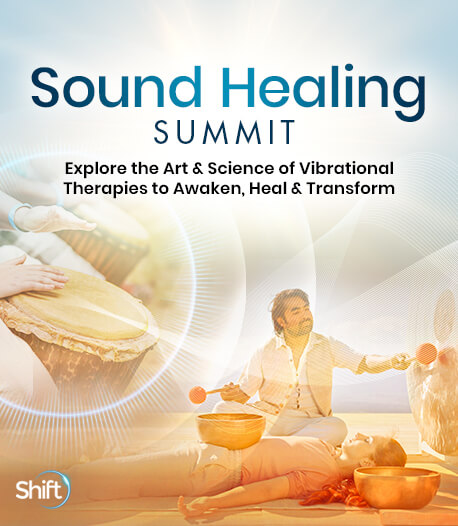 Program & Replays
Tapping Into a Powerful Channel of Creativity During Live Performance
Broadcast on July 13, 2023
With RutiCelli
Hosted by Alec Sims
RutiCelli will briefly discuss A- 432Hz, an intriguing frequency that serves as an ally helping her to tap into deeper connection with her musical source. She will explain it mostly from an experiential intuitive perspective, explaining how this frequency has affected her as a performer as she channels her connection to the higher self. RutiCelli will also explain the power of tapping into the channel of creativity through performance, and how sharing this intimately with the collective can affect our wellbeing and enhance states of consciousness.
In this session, you'll discover:
How to develop a heightened sensitivity to sound vibration through the deepened experience of presence while vibrating at 432Hz
A deep hypnotic-like state of presence while listening to a 10-minute channeled composition performed in 432Hz
Your own sacred geometry and understanding of your uniqueness while listening to that performance
The opinions expressed here are those of the author/presenter and are not representative of Shift Network employees, customers, or other presenters.
Love this Speaker and What They Have to Say?
It can be yours to keep... forever.
Get lifetime access to the summit and bonus material by upgrading now!
UPGRADE HERE
RutiCelli
Founder of Intimate Cello, Composer, Publisher, Performer, Meditator & Channeler
RutiCelli, originally from Israel, is a live performance musical artist who tours internationally. She also runs Sensual & Soulful Chillout Music Production, publishing her work as well as channeling live compositions on the spot.
Over the past 10 years, RutiCelli has recorded and toured with cross-genre piano trio Take 3, Norwegian actor Caroline Waters, and progressive rock producer Dave Kerzner. She appears on more than 40 albums worldwide as a cellist, vocalist, and songwriter.  
RutiCelli's uniqueness is in her passion for improvisation — allowing her to ease-fully channel every musical genre. She birthed "Intimate Cello" in 2021, an art offered as a tool for self-empowerment. The art showcases sound journeys, which are tuned to concert A-432Hz, a key code and harmonic tuning frequency given to us by the ancestors over 6000 years ago. They etched this code onto stone sites, and built it into many architectures of ancient sites all over the planet. It is represented in the mathematics of the golden ratio and sacred geometry. It is purported to activate the pineal gland, and when you listen to the frequency grid of this tuning system you can experience an improvement in your health, accessing a gateway through your third eye to the higher dimensional portals. 
Utilizing this tuning system when she performs live allows RutiCelli to create a powerful connection with her audience, inviting an experience of increased wellbeing resulting in both collective and individual consciousness expansion at the time of her performances.