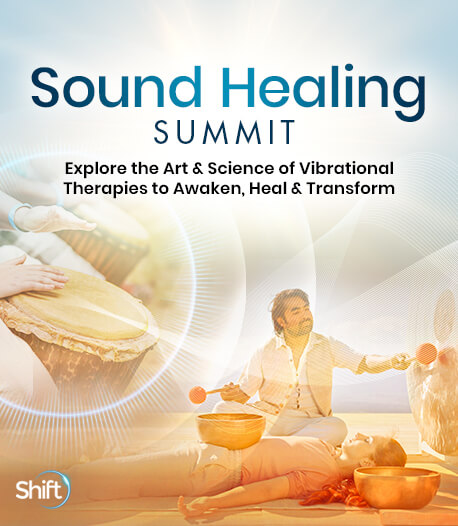 Program & Replays
The Art of Gong Healing: Inner Workings of a Gong Sound Bath
Broadcast on July 12, 2023
With Richard Rudis
Let's join Richard Rudis as he discusses The Art of Gong Healing, a fascinating exploration into the science and magic of polytonal vibrational healing. This session includes 30 minutes of discussion, then 10 minutes of examples of gong sounds and what they represent.
In this session, you'll discover:
The various tonal regions of the gong
The physical energy dynamics of projecting your own chi into the instrument
Sacred geometry properties and how to incorporate them
The opinions expressed here are those of the author/presenter and are not representative of Shift Network employees, customers, or other presenters.
Love this Speaker and What They Have to Say?
It can be yours to keep... forever.
Get lifetime access to the summit and bonus material by upgrading now!
UPGRADE HERE
Richard Rudis
Sound Healer & Gong Bath™ Musician
Richard Rudis has been a student of Buddhist philosophy for more than 30 years, and is an American practitioner of the Tibetan Vajrayana school. As a longtime pilgrim to Himalayan sacred sites, he's received Buddhist teachings and traditional instructions regarding the use of sacred sound instruments for ritual and healing purposes. Richard established the Buddhist Dharma of Vibrational Healing Institute in 1996, has been teaching across the U.S. and abroad for 25 years, and is considered a pioneer in this powerful healing modality. His unique playing craftsmanship is a fusion of his rarefied studies in sacred sound playing techniques, tantric education, engineering, and Buddhist principles. Using a unique 38" gong toned to the "Aum" frequency of the Earth (in its yearly dance with Sol), a multitude of octaves are created — designed to entice the brain into Alpha (relaxing), Theta (creative) and Delta (deep meditation) wave-scapes of healing. 
Richard's often a prominent speaker and presenter at various conferences on transformative energy, healing, meditation, and wellbeing. Paiste International has recognized him as a preeminent gong master for his unique and emotionally powerful playing skills. He established the Sacred Sound Workshops in the 1990s — formalizing and expanding the curriculum in partnership with the Tibetan Bowl Healing School in 2008. He's also a regular presenter at the Science and Non-Duality and Science and Consciousness & The Science of Consciousness (University of Arizona) conferences. He's author of the book The Art of Gong.