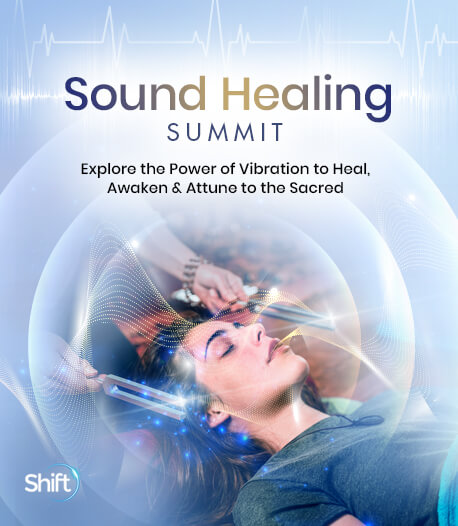 Program & Replays

The Four Pillars of Sound Healing
Broadcast on June 27, 2022
With Jonathan Goldman & Andi Goldman
Hosted by Alec Sims
Jonathan Goldman and Andi Goldman discuss foundational principles of sound healing and focus on the extraordinary power of the hum, a sound that everyone can make. Based upon material from their award-winning books The 7 Secrets of Sound Healing and The Humming Effect, they will show you how to use Conscious Humming to reduce stress, enhance the release of melatonin, nitric oxide and other healing hormones to experience the powerful transformational benefits of sound healing.
In this session, you'll discover:
The power of your own self-created sound to reduce stress, enhance relaxation, improve immunological response
The basic principles of sound as a healing modality including psycho-acoustics and vibro-acoustics
How humming is a powerful non-pharmaceutical prescription for self-healing that has only positive effects
The opinions expressed here are those of the author/presenter and are not representative of Shift Network employees, customers, or other presenters.
Love this Speaker and What They Have to Say?
It can be yours to keep... forever.
Get lifetime access to the summit and bonus material by upgrading now!
UPGRADE HERE
Jonathan Goldman & Andi Goldman
Jonathan is CEO and Andi is Director of Healing Sounds®
Jonathan Goldman, MA, is an international authority and a pioneer in the field of sound healing. He has authored numerous books, including Healing Sounds... The 7 Secrets of Sound Healing... Chakra Frequencies (co-authored with his wife Andi)... The Divine Name (winner of the 2011 Visionary Award for Best Alternative Health Book)... and his latest (also co-authored with his wife Andi) The Humming Effect, which won the COVD Visionary Award for Best Health Book.
Jonathan is director of the Sound Healers Association and president of Spirit Music, Inc. in Boulder, Colorado. A Grammy nominee, he has created more than 25 award-winning recordings, including The Divine Name (with Gregg Braden), Reiki Chants, Frequencies, Ascencion Harmonics, Chakra Chants, and Merkaba of Sound. Chakra Chants has been a double Visionary Award winner for Album of the Year and Best Healing/Meditation Music, and was honored in 2016 with the Visionary Award for Iconic Album. His albums Ultimate Om, Reiki Chants, and The Divine Name have all been separately named as winners in the Iconic Music category.
Jonathan, a lecturing member of the International Society for Music Medicine, has dedicated his life to the path of service, helping awaken and empower others with the ability of sound to heal and transform. In spring 2011, Jonathan was named one of Watkins' Mind Body Spirit magazine's 100 Most Spiritually Influential Living People. Also in 2011, Jonathan was inducted into the Massage Therapy Hall of Fame. He presents Healing Sounds lectures, workshops, and seminars worldwide.
Andi Goldman, MA, LPC, is a licensed psychotherapist, specializing in holistic counseling and sound therapy. She is the director of the Healing Sounds® Seminars and co-director of the Sound Healers Association. She is a musician, teacher, sound healer, and award-winning author. Andi is the developer of Tele-Counsel, the nation's first telephone counseling service specifically offering homebound clients structured counseling. Andi co-authored with her husband, Jonathan Goldman, Chakra Frequencies, winner of the Visionary Award for Best Alternative Health Book of the Year, and their new bestselling The Humming Effect, which won the 2018 Gold Visionary Award for Best Health & Healing Book (both from Inner Traditions).