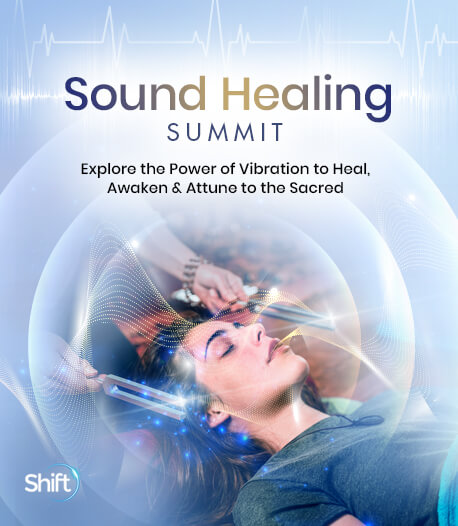 Program & Replays

Welcome Message From Your Series Hosts
With Alec Sims & Phyllis Anne Douglass
Alec Sims: Welcome. Thank you for registering for the 2022 Sound Healing Summit series here on The Shift Network. We're excited to have you with us to take this 5-day journey on the sound current.

Phyllis Anne Douglass: Yes, and welcome. I'm Phyllis Anne Douglass, and along with cohost Christine Stevens, we are so excited to share this series with you this year, featuring a generous number of sound healing practitioners, teachers, researchers, and musicians from all over the world who are coming here to share their practices with you.
Alec: Yeah, so many great sessions coming your way. And just to name a few, we'll have Andi and Jonathan Goldman sharing the foundations of sound as a healing modality. We'll have Chloë Goodchild discussing the power of the voice and how you can open up and discover the power of your own soul voice. And also acoustic scientist John Stuart Reid will be sharing the latest leading-edge research related to sound and music medicine.
Phyllis: And we're so happy to share all of this with you and to have all of you on board, and this is going to be an exciting adventure.
Alec: Yes, and all the teachers and speakers are here to share their wisdom experience. I always like to note that the most important participant is you, as your energy and attention and presence is what really makes these events come to life. And as you listen to the sessions, note that we are all connected in this expanding global community of sound, and know that you make a difference, and we can make a difference with our sounds. So welcome aboard. Enjoy. And we'll see you in the sessions.
Alec Sims
Vocal Toning and Harmonic Chant Mentor, Author of Sound Healing For Beginners
Alec Sims has been involved with music and sound-related pursuits his whole life. Alec was a professional musician for many years before discovering the world of sound healing. He has worked with Jonathan Goldman's Healing Sounds since 1998, was a core faculty member at the annual International Healing Sounds Intensive for 19 years, and has been the director of the Healing Sounds Correspondence Course since 2002. During that time, Alec has done personal consultation sessions with hundreds of students worldwide, offering instruction in vocal toning and harmonic overtone chant.
Alec is the author (with Joshua Goldman) of the acclaimed book Sound Healing for Beginners (from Llewellyn Worldwide). His harmonic overtone chanting is featured on many of Jonathan Goldman's most popular CDs such as Ultimate Om, The Lost Chord, and The Divine Name: Sounds of the God Code. Alec lives in Boulder, Colorado where he continues to pursue music performance, vocal toning, and sound healing teachings.
Phyllis Anne Douglass
Author, Vocal Sound Alchemist & Musician, Intuitive Healer, Artist, Yoga Teacher
Phyllis Anne Douglass is an author, vocal sound alchemist and musician, intuitive healer, artist, yoga teacher, and a licensed massage therapist. She has studied for many years within the field of energy medicine, shamanism, spirituality and mysticism. Phyllis works with the body, mind, and soul, using advanced manual therapies, energetic healing methods, and the profound use of sound as a creative force of expression.
Phyllis considers her vocal alchemy music to be a very spiritual and performative art form, that arises from the higher spaces within and expresses through her from the non-material world as divinely encoded vibrational sound, frequency, patterns, and light with deep purpose and passion. Phyllis Anne Douglass is a Shaman of Sound — a Nagual of the inner tonal light.
As a direct conduit for the Divine Order of the Elohim, her work as a vocal alchemist initiates healing and transformation through the innate mechanisms held within the physical and energetic bodies and mind — which hold the unparalleled ability to transform, spiritually transfigure, and heal us on all levels.